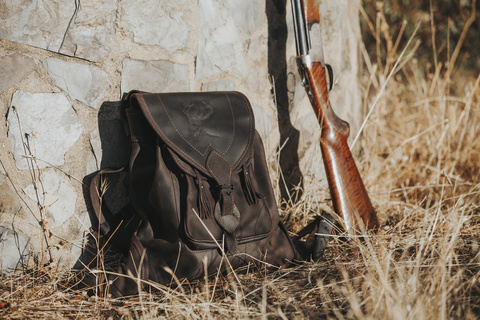 Planning your next hunting adventure?
Before you hit the hunting grounds, it's important to be prepared with the proper hunting gear to make your trip as fun and successful as it can be! With an abundance of information and equipment on the market, getting your checklist together is a chore all its own. Luckily, we've got 6 tips to get you started in selecting the best gear for your next hunting trip!
1. Define Your Hunting Trip and The Game You'll Hunt
When hunting season is near, the first thing you should do is make sure to obtain the appropriate hunting license in your state. Check the rules and regulations regarding the type of firearms you'll be using. Your firearms will vary based on the game you plan to hunt.Consider some type of body protection in case you are using more dangerous firearms. Will bait help attract the game you're hunting? Is it legal to use? Scope out locations and dates that are cleared for hunting in your state.
2. Check Your Supplies from the Last Hunting Trip
Whether you're a seasoned hunter or have only a few trips under your belt, you can save money by examining your gear from your most recent trip. Make sure your firearms are in working condition to prevent accidents. Check that you are stocked up on ammunition. Check the batteries in your lanterns and flashlights. Inspect your bags, tent, and clothing for tears or holes. Repair and replace, if necessary, to avoid carrying gear that lets in the elements.
3. Keep an Eye on the Weather
When planning your trip, keeping a close watch on the weather is important for a number of reasons. Weather can impact the way your game behaves. You might have to adjust your plans based on the weather. It goes without saying that nasty weather can put a damper on your trip. Consider a more heavily reinforced tent or even a table top heater if you're expecting heavy rains, winds, or snow.
4. Pick Your Clothing and Camo
The climate in your region will determine what kind of clothing you'll need for your hunting trip. If you live in a colder region, be prepared to use at least three layers:
A lightweight, breathable base layer
A loose-fitting middle layer
A water repellant outer layer
Aside from keeping you covered, your hunting clothes have a crucial purpose. Most hunters wear some type of camouflage to blend with their surroundings and keep them hidden from prey. Know the terrain that you'll be traversing. Proper footwear will ensure that you are protected and comfortable.
5. Keep the Bugs Away
While your camouflage will keep you warm and hidden from the game you hunt, forested areas will inevitably have pesky insects. Just as you want to keep your own odor at a minimum as to not deter animals, focus on finding a bug spray that is effective, but has little scent. Thermacell is the hunter's choice for keeping bugs from ruining your hunting trip.
6. Prepare for Emergencies
Accidents happen so you need to always be prepared. Safety should be a priority. Make sure you have a first-aid kit with you at all times. Keep hand and foot warmers available in case of freezing temperatures. Consider purchasing a handheld GPS, and packing extra food and water, in case you get stranded. Now that you've got these 6 tips in the bag, you're all set to shop for your next hunting trip! Do you have a checklist of how to prepare for a hunting trip? Let us know!